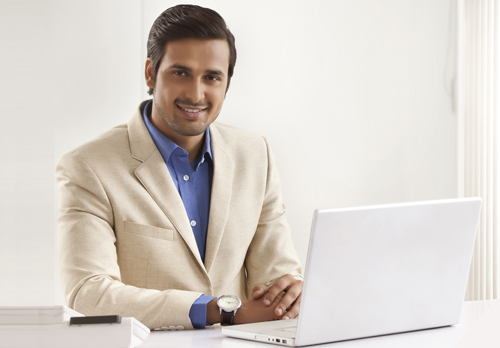 Steps To Open A Demat Account Online
A Demat account is an account that allows you to hold your shares in an electronic form. It offers you a secure and convenient way to keep a track of your stocks, securities, debentures and investments.

Your demat account contains all your shares and investments stored in an electronic or dematerialised form. If you are planning to open a demat account, make sure to pick a bank-backed broker like Axis Direct which is backed by a reputed bank like Axis Bank and has a number of branches. This will allow accountholders to visit their bank any time they want and not have to worry about travelling far if any inconvenience arises.

Once you open your demat account online, you don't have to worry about any paperwork. This greatly helps to avoid any kind of confusion related to physical shares. The system was introduced under the Depository Act of 1996 in India. It greatly influenced the market and increased the convenience of handling important documents.



Requirements of Demat Account opening:
If you're planning to open a demat account online, there a few requirements needed such as -
PAN card details
It is mandatory to provide your PAN card details to open a demat account. This is done to prevent fraudulent activities.


KRA Verification
KRA verification means KYC registration agency verification which is very important in a demat account opening process. With Axis Direct, a KRA verified customer can be eligible for demat account opening in just 15 minutes flat. However, non-KRA verified customers are provided with a form pre-filled with information provided by them while opening demat account online at Axis Direct. This pre-filled form will needed to be submitted to an Axis branch or an Axis employee can also visit him for collecting the same, which means personal verification is needed.
So if you are KRA verified, you can open a demat account in just 15 minutes, enjoy great benefits and also save yourselves all the hassles of demat account opening process, as all your information will be pulled up from depository service (i.e. CDSL or NSDL) itself!
Advantages of opening a demat account
The major advantage is, of course, the elimination of paperwork. However, there are other benefits too. They are as follows:
Since there's no stamp duty required on the transfer of securities, you don't have to spend extra money from your pocket.
There is better security due to elimination of paperwork. Additionally, investors no longer have to worry about losing their certificates.
A single demat account can hold both equity and debt investments.
Overall transaction costs are considerably lower as compared to trading physical stocks or shares.
Demat accounts offer immediate transfer of securities which helps customers save a lot of time.
Liquidity increases as you can sell the securities at any point of time (during trading hours).
Steps to open a demat account online
A demat account can be opened with zero account balance. In other words, there is no compulsion to maintain a minimum balance to operate the account.

It is like any bank account and so leaving it inactive for long may lead to its dismissal. In such a case, a reactivation fee would most likely be charged. You must also always remember to add a nominee while applying for your demat account. Doing this can enable them to receive benefits in times of need. Now, let's discuss the steps to open a demat account online with Axis Direct.

With Axis Direct, opening a demat account is as simple as it gets! You can open an account in just 15 minutes by following the steps as listed below:
1. Click here to start your online demat account opening journey.
2. Provide your name, phone number and a verified email address.
3. An OTP will be sent to your entered mobile number to verify and continue the process.
4. Enter the PAN card number and date of birth to complete the next step.
5. The next step will require you to fill up the personal details like:
a. Name
b. Permanent address
c. Residential status
d. Marital status
e. Highest education
f. Father's and mother's basic information
g. Financial information & information on income
h. Trading experience
6. Fill up bank details:
a. Bank name
b. Bank account number
c. IFSC code
7. Make payment (many payment modes are available)
8. Upload your documents
a. Cancelled cheque
b. Passport size photo
c. Address proof – Aadhar card/driving licence/voter ID/passport
9. E-sign your online demat account opening form.
10. You're done! Start trading and avail great benefits like low brokerage and enjoy unlimited trading at just INR 20 per order.
Now that you're well-aware of how a demat account functions and its various benefits, head straight to Axis Direct to open demat account online and start trading with great benefits like low brokerage and enjoy unlimited trading at just INR 20 per order!