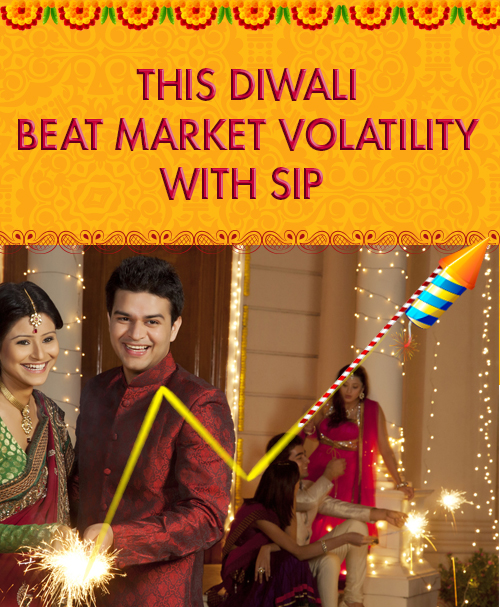 Exuberance in the environment with dazzling lights & cheerful faces marks the beginning of the festive season in India. The festive season of Diwali, reinforces the belief that it's an auspicious period to make a new beginning to investments. Considering the recent volatility in the market, it's prudent to start your investments with SIP. A long investment horizon through the SIP route reduces volatility, hence provides you the opportunity for wealth creation in the long-run.
Why this Diwali to begin SIP
Market Volatility Brings Opportunity

Accumulate more no. of Mutual Fund units when the markets are in bearish phase

Build long-term returns

Investing for a longer phase with recurring investments like SIP will help you create long-term wealth

Enjoy festivities alongwith finances

SIP inculcates the habit of disciplined investing, to help you enjoy your festivities without any investment worries
Why Mutual Fund SIP





Go lighter on Wallet

Start an SIP as low as Rs. 1000 per month without having to strain your wallet.

Compound Investments

With the power of compounding, your investments are likely to multiply faster

Rupee Cost Averaging

Invest across market cycles and reduce the effect of market volatility. Benefit from averaging your purchase cost.

Diversify your Portfolio

By investing small amounts in SIPs you can diversify your portfolio.

Invest Regularly

Inculcate the habit of disciplined investing.
Our Investment Ideas:
| Scheme Name | Category | 3 Years | 5 Years | 10 Years | Invest Now |
| --- | --- | --- | --- | --- | --- |
| ADITYA BIRLA SUN LIFE TAX RELIEF 96 | ELSS | 6.24 | 11.38 | 14.76 | Invest Now |
| AXIS BLUECHIP FUND   | LARGE CAP | 8.5 | 9.44 | - | Invest Now |
| DSP EQUITY OPPORTUNITIES FUND | LARGE & MIDCAP | 3.55 | 9.28 | 13.18 | Invest Now |
| HDFC SMALL CAP FUND | SMALL CAP | 11.67 | 15.16 | - | Invest Now |
| KOTAK STANDARD MULTICAP FUND | MULTICAP | 5.73 | 10.75 | 16.72 | Invest Now |
| L&T MIDCAP FUND | MIDCAP | 5.79 | 13.99 | 18.46 | Invest Now |
| UTI VALUE OPPORTUNITIES FUND | VALUE | 3.83 | 5.75 | 10.79 | Invest Now |
Source - Value Research - Returns as on 26th October 2018
v2.0.42-S41