Axis Dynamic Equity fund is an open ended equity fund which while gauging the price movements on account of earnings also considers trend and volatility of the markets to arrive at an investment decision.
The product is suitable for investors who are seeking capital appreciation while generating income over medium to long term by investing in equity and equity related instruments as well as debt and money market instruments while managing risk through active asset allocation.
FEATURES & BENEFITS
Eliminates human bias

Avails equity taxation

Factors inputs from multiple market variables

Protects downside by reducing drawdowns

Removes the need for market timing for investors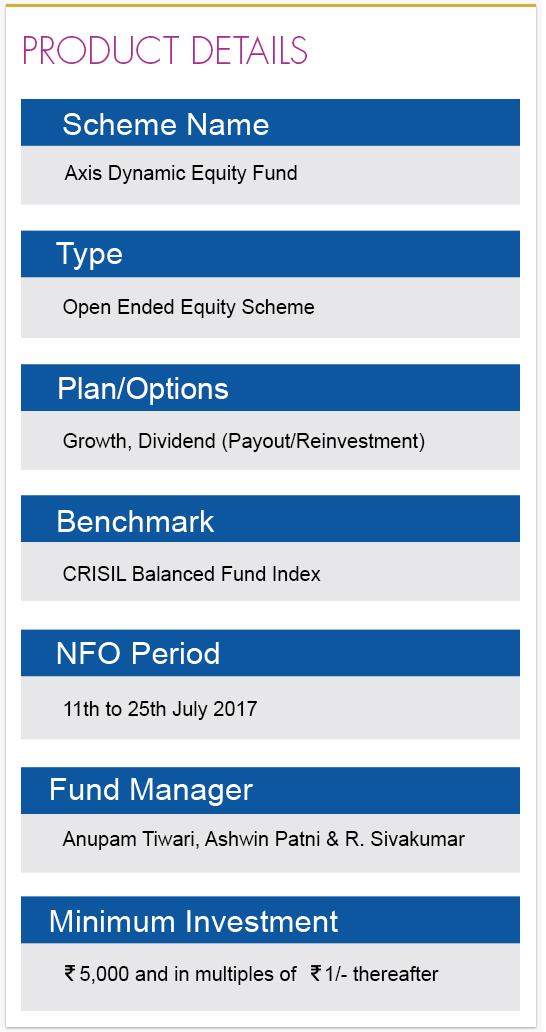 Statutory Details: Axis Mutual Fund has been established as a Trust under the Indian Trusts Act, 1882, sponsored by Axis Bank Ltd. (liability restricted to `1 lakh). Trustee: Axis Mutual Fund Trustee Ltd. Investment Manager: Axis Asset Management Co. Ltd. (the AMC). Risk Factors: Axis Bank Ltd. is not liable or responsible for any loss or shortfall resulting from the operation of the scheme. Mutual Fund investments are subject to market risks, read all scheme related documents carefully.
v2.0.42-S41