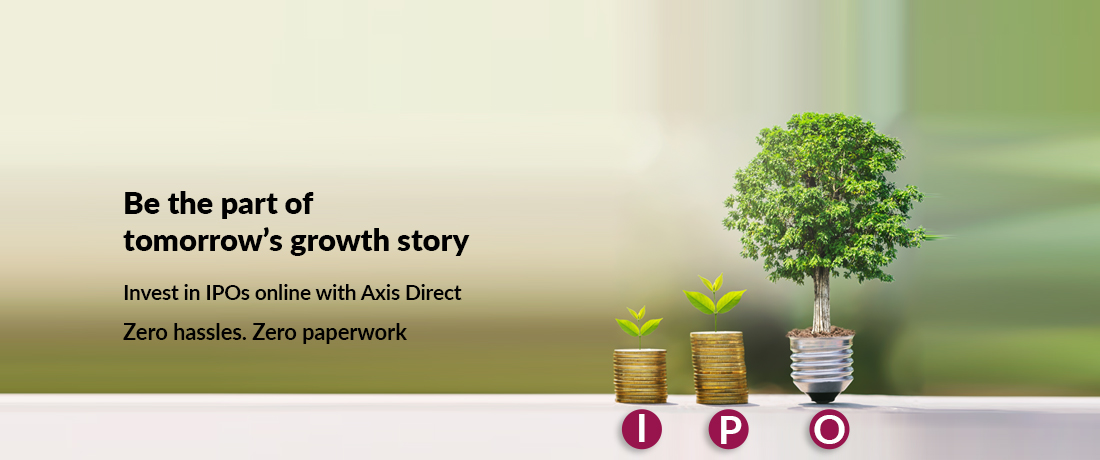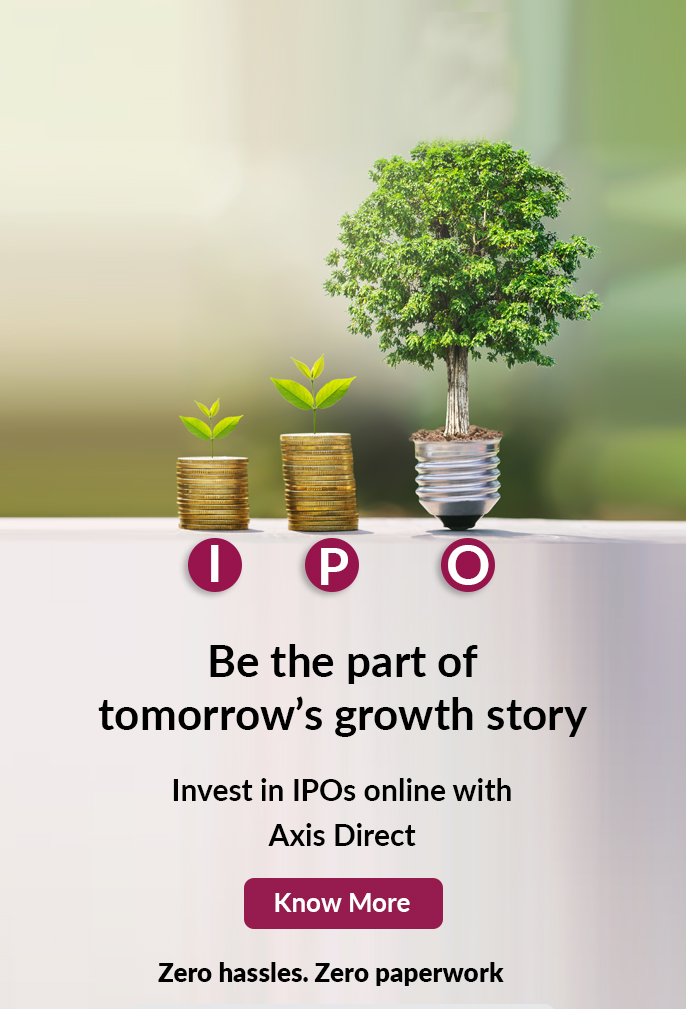 About IPO
A fundamentally sound company's Initial Public Offering (IPO) offers the chance for common investors to participate in its growth from the start by purchasing shares and holding a small ownership position.

Through an IPO, companies access the share markets to raise money. The money obtained could be used for a variety of company needs, including capacity development, product diversification, expansion into a new market, a substantial R&D project, merger and acquisition activities, etc.
The disclosure of proposed usage of the funds is mentioned in the issue prospectus.
IPOs provide a great opportunity for wealth creation as well as portfolio diversification.


With Axis Direct #IPOInvestingMadeSimpler

Current IPO

Company Name
Manoj Vaibhav Gems N Jewellers Ltd
Price Range
₹ 204 - ₹ 215


Company Name
JSW Infrastructure Ltd
Price Range
₹ 113 - ₹ 119


Company Name
Updater Services Ltd
Price Range
₹ 280 - ₹ 300


Upcoming IPOs

Company Name
Valiant Laboratories Ltd
Price Range
₹ 133 - ₹ 140


Recently Listed IPOs
Top Performing IPOs
Bottom Performing IPOs


IPO FAQs
chevron_right

An initial public offering is when a private firm offers its first equity to the general public (IPO). A company's ownership is essentially changing from private ownership to public ownership through an IPO. Because of this, the IPO procedure is occasionally referred to as "going public."

Why does company launch an IPO?

chevron_right

An IPO is a big step for a company as it provides the company with access to raising a lot of money. This gives the company a greater ability to grow and expand. The increased transparency and share listing credibility can also be a factor in helping it obtain better terms when seeking borrowed funds as well.

chevron_right

Under Securities and Exchange Board of India (SEBI) guidelines, there are four types of investors who can bid for shares during the IPO process. These are:

1.Retail Investors (RI)- Retail investors are defined as Individual Investors who invest less than Rs. 2 lakh.

The retail quota's minimum allotment is 35%.

If the issue is oversubscribed, SEBI has mandated that all retail investors receive at least one lot of shares, subject to availability.

A lottery technique is used to distribute IPO shares to the general public if one lot for each investor is not feasible.

2.High Net Worth Individuals (HNIs)/ Non- Institutional Investors (NIIs)- HNIs are defined as those looking to invest more than Rs 2 lakh.

Similar to non-institutional investors, institutions that wish to subscribe for more than Rs 2 lakh are known as such. The distinction between a QII and an NII is that the latter is exempt from SEBI registration.

3.Anchor Investors- Any QII who submits a request for more than Rs 10 crore is considered an anchor investor. These investors frequently bring additional investors to join them. For qualifying institutional investors, up to 60% of the shares may be sold to anchor investors.

4.Qualified Institutional Investors ( QIIs)- This group includes commercial banks, public financial institutions, mutual fund companies, and foreign portfolio investors who have registered with SEBI.

Before the IPO begins, underwriters try to offer them sizable portions of IPO shares at a profit. Underwriters are greatly aided in obtaining the desired money by selling shares to QIIs.

To guarantee minimal volatility during the IPO process, SEBI requires institutional investors to sign lock-up contracts for at least 90 days.

QIIs are crucial for businesses that are going public. This is due to the fact that underwriters give them IPO shares before the share market price is determined. There would be fewer shares available to the general public if QIIs purchased more shares. Share prices would rise as a result of this. For a business that wants to raise as much capital as possible, this scenario is excellent.

To prevent corporations from inflating IPO valuations, SEBI has established regulations. Because of this, the regulatory body prohibits corporations from allocating more than 50% of their shares to QIIs.

What happens after the IPO period?

chevron_right

The company and the underwriters will decide how many shares to allot to each investor once the IPO price is set. Partial allotments will be made if there is an over-subscription. Within 10 working days of the final bid date, the IPO equities are typically distributed to the winning bidders.

After allotment of shares, shares are listed on the exchanges. After the listing shares are traded freely in the market during market hours.

How to apply for IPO with Axis Securities? ( WhatsApp/ Ring Mobile/ Swift Trade/ IVR)

chevron_right

1.WhatsApp- Send a "Hi" to +91 89769 00911

2. Ring Mobile App- Login to Ring Mobile App and visit to Investing Section

Select IPO and Click on Apply Now. Click Here

3.Web Platform/ Swift Trade- Login to Platform Here

4. Dedicated Calling Facility-

Call on 022 - 61480808/41508080

When calling from your registered number, press 1 and then press 3

Follow the instructions communicated over the call